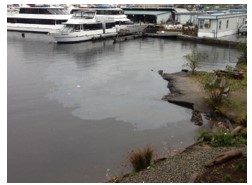 In 2012 founding Board Member Mark Grey noticed oil slicked water near the west shore of Lake Union and thought it was coming from a nearby marina.  After further investigation he discovered the source was actually the catch basin in the parking lot next to the lake.  The Eastern Avenue catch basin, like the many located around Lake Union was collecting polluted storm drain and street runoff water and sending it directly into the lake with no treatment system.
Shortly after this initial discovery Mark came together with Jeremy Febus, Alexandra Ramsden and Myer Harrell to find a feasible method for treatment of catch basin water.  They formed Clean Lake Union, LLC with the goal of identifying and funding the installation of bio retention swales at the catch basins around Lake Union.  CLU focuses on collaborating with private commercial land owners, developers, and local government to create clean water solutions through the installation of bio retention swales.   Clean Lake Union has been supported by Salmon Safe and The Nature Conservancy, both of whom have helped CLU navigate the waters of making an environmental impact.  
In March of 2018 Clean Washington Waters, operating as Clean Lake Union, received its 501(c)3 status. Clean Lake Union is focused on catch basin and outfalls surrounding Lake Union and Lake Washington including the canals that connect the waterways and the bridges that span over them.  Our goal is to continue to collaborate with the local business community and government to install bioswales throughout the region as well as continue to educate the public on our work and the steps they can take to keep our waters clean.