We are focusing on catch basins and outfalls surrounding Lake Union and Lake Washington, initial projects include the Aurora Bridge, the Fremont Bridge, the Ballard Bridge, the University Bridge, the Montlake Bridge and the Ship Canal Bridge.  
Before our work, storm water flowed untreated into the lake, which harmed the health of the lake and the greater ecosystem that it supports.
The Aurora Bridge Project aims to address the nearly 2,000,000 gallons of polluted runoff from the bridge that enters Lake Union and the Fremont Cut annually.  Each phase of this multi year project was possible because of the innovative support of private developers and Seattle business leaders.  

Phase 1 - Troll Ave West, Data 1 Bldg
Completed in July 2017, this bioswale is capturing an estimated 200,000 gallons of water annually.
In partnership with Hess Callahan Partners & Hal Real Estate, Inc.

Phase 2 - Troll Ave East, Watershed Bldg
Completed in Spring 2020. This bioswale will capture an estimated 400,000 gallons of water annually.
In partnership with:
Hess Callahan Partners & Spear Street Capital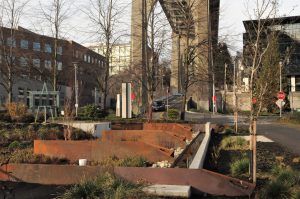 Phase 3 - North Span
Expected completion in July 2020. When complete these bioswales will capture 1,200,000 gallons of water annually.
Project supported by Boeing, The Nature Conservancy, & Quadrant Lake Union Center, The Holocene Foundation, Tableau, Adobe, Geocache HQ

(4) Eastern Ave Street End
Anticipated construction start of Summer 2020. This street end catch basin and bioswale will capture 200,000 gallons of water annually.